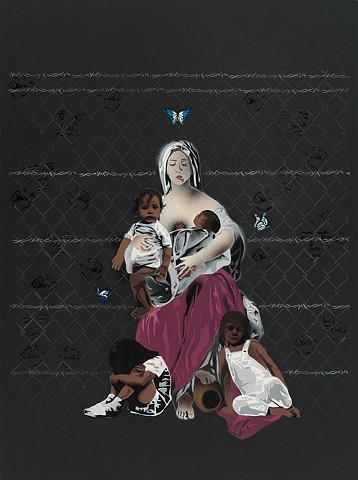 Compassion (Immigration Reform) - Permanent Collection of the National Immigration Law Center (Los Angeles office)
Acrylic spraypaint on canvas
48"H x 36"W
2014
In fiscal year 2014 nearly 56,000 unaccompanied immigrant minors were taken into custody - a 100 percent increase over 2013. Minors from Mexico can be quickly returned to their home countries in expedited removal proceedings. But those from other countries - mostly teens but sometimes as young as toddlers - are transferred to the custody of the Office of Refugee Resettlement, part of the Department of Health and Human Services. Violence in three Central American countries - Honduras, Guatemala, and El Salvador (known as the Northern Triangle) - propelled the 2014 influx.
The soaring number of unaccompanied minors strained the system, forcing the federal government to hastily open additional emergency facilities across the country. The environment in some of these facilities is not appropriate for children. The Vice President recently noted the challenge and the importance of our response: "Not only are we going to judge ourselves based on whether we do the right thing by these kids ... we're going to be judged by the rest of the world on how we take care of these kids, how we deal with this fairly and some of it is going to be hard." Before they recessed in August of 2014, Congress failed to vote on a measure that could alleviate this crisis. IT is still a crisis today.
The primary figure in the painting is 'Charity' and was appropriated from William-Adolphe Bouguereau's 1878 painting of the same name. The subtle background imagery is silhouettes of unaccompanied migrant children in various states of anxiety - confused, dazed, visibly upset, and angry - grasping the fence as they await processing in a detention facility. The migratory butterflies are painted in the palettes of the flags of the Northern Triangle countries.